Wow - where to start?? This weekend is definitely a
modeling weekend
for me! I love staying busy with this, because it means I'm getting my name out there, and I'm constantly networking wherever I go. Plus, I really appreciate the experience and it's a trip to see how my modeling is improving, even though I've only really been pursuing it since May (and let's not forget that I took myself out of the loop for several weeks back in August...).
Here's a rundown of how my weekend is set up:
FRIDAY

I'll be working as a featured promo model at the party in Lake Elsinore. Doors are at 8.30pm, so get there early!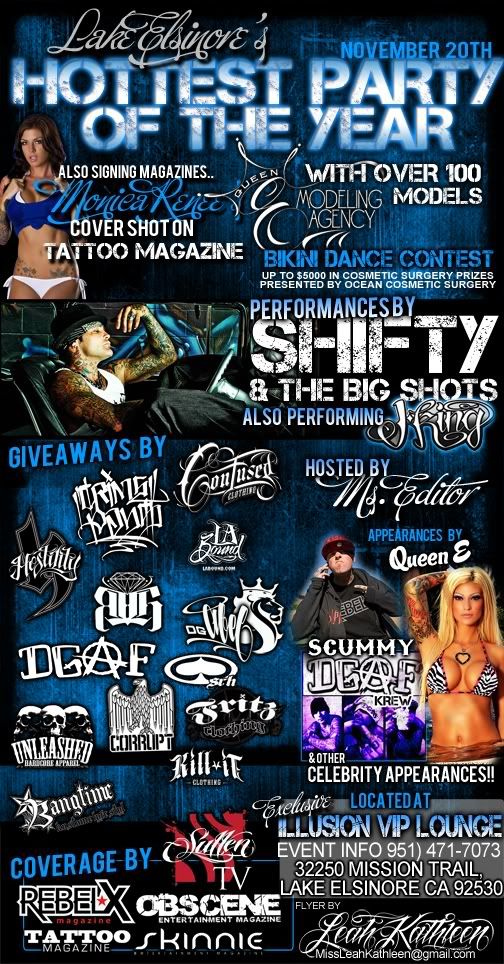 (new info added to flyer)
Saturday
I have a photoshoot in Beverly Hills at the same mansion that I shot for Kasanova Magazine back in Oct. This is a test shoot, where I'll be shot by multiple photographers which should really enhance by portfolio! I'll try to remember to take my own personal camera and get some "behind the scenes" pics for you!
Sunday
Headed down to Corona for a shoot with Myke for
GuitarSpy.com
. The wonderful Crystal (MissMUA) will be there to get me all dolled up. I'm excited that I'll be doing my first shoot for a website AND with a guitar, but I'm also stoked that Crystal will be there. She's amazing!
Sheesh! I'm tired already, but I love that things are picking up!! Now, you'll have to excuse me as I need to start packing for this weekend already. And I need to remember to bring a ton of my cards - don't want to be caught without them!!
xo